Fostering a community of belonging during Hispanic Heritage Month
National Hispanic Heritage Month runs from September 15-October 15. As the executive sponsor for Tenet's Hispanic Employee Resource Group, Monica Vargas shared her thoughts on fostering a community of belonging.
---
As we celebrate Hispanic Heritage Month, I wanted to take time to look back on my journey and career as a Hispanic healthcare leader.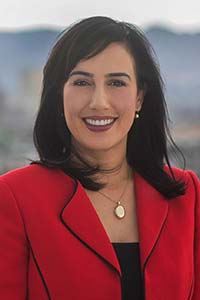 In 2010, as I was growing my career in healthcare, I was searching for an organization where I could be surrounded by like-minded individuals focused on mentorship and support. A longtime mentor of mine suggested NALHE, The National Association of Latino Healthcare Executives.
NALHE was founded in 2005 to increase senior-level Latino and Latina representation in hospitals and health systems across the United States. There are many NALHE programs dedicated to networking, career advancement, resume building, and much more.
With NALHE, I liked that there were other people around the table who looked like me, and who were also trying to tackle the same issues that I wanted to address. For example, caring for the uninsured, handling language barriers, and creating diversity awareness for our workforce.
My educational path and career have taken me to communities with vibrant Hispanic populations, including El Paso, Los Angeles, San Antonio and most recently Tucson, where more than 44% of the population is Hispanic. I am honored to be one of a few Hispanic women leaders in Tucson's healthcare space and I am encouraged by the many opportunities our health system provides and that we can rise to the many needs of this community. Working with a diverse team of leaders and team members allows us to build on the legacy of the Sisters of St. Joseph's who founded Carondelet 142 years ago. The courageous trek made by the seven sisters across the desert reminds me that our work may be difficult but the reward of building our legacy is lasting.
In my role as executive sponsor of Tenet's Hispanic employee resource group, I am hopeful to facilitate connections in the same supportive manner that NALHE has done for me. I want to foster a community of belonging where we can exchange ideas and raise awareness. There are so many unique characteristics that make us Tenet, and it's very special to be a part of that.
During Hispanic Heritage Month, I encourage everyone to pause, acknowledge, and celebrate our differences.