The Hospitals of Providence provides opportunity for students with disabilities to help secure post-graduate employment
The Hospitals of Providence is empowering students with disabilities to obtain applicable, real-life work experience through a unique partnership with Project Search.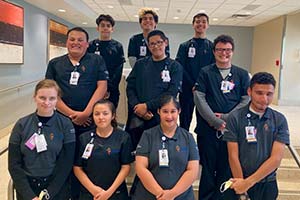 Project Search is designed to help individuals with disabilities secure competitive employment. The program places high school students with disabilities in work environments to acquire marketable skills and gain independence and self confidence that will help them pursue post-graduate employment.
For the sixth consecutive year, The Hospitals of Providence has welcomed a new class of Project Search students to their campuses. The Hospitals of Providence is the only employer in El Paso to offer the Project Search program.
"These students truly inspire our team every day and while we work to provide them key skills to be successful, we really learn so much from them," said Nicholas Tejeda, Group CEO for The Hospitals of Providence in El Paso, Texas. "Through our work with Project Search, we've watched these students thrive because of the education and training they receive at our campuses – many of them after graduation have gained employment at one of our hospitals and we are so thrilled to have them. We look forward to having this year's students join us as active members of our team."