New acute care hospital to offer expanded care to residents of Treasure Coast
The Palm Beach Health Network, the largest healthcare provider in Palm Beach County, recently announced the planned opening of a new acute care hospital in Port St. Lucie, Florida in 2024. The new, technologically advanced facility is part of Palm Beach Health Network's expansion of care for residents of the Treasure Coast.
The 54-bed acute care hospital will offer specialized surgical services including orthopedics, spine, robotics, general surgery, advanced cardiac care and diagnostic services. This expansion will allow the Palm Beach Health Network to extend its acute care health system capabilities to increase access to its services locally across Martin and St. Lucie Counties.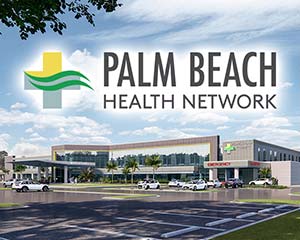 The new facility will be the cornerstone of the newly developed Florida Coast Health Network, a sister healthcare entity that will benefit from the depth of resources in the Palm Beach Health Network. On the campus of the new hospital, the Florida Coast Health Network will expand access to leading physicians in a convenient location with the addition of a new medical office building. There will also be greater access to outpatient surgical services with affiliated ambulatory surgery centers through the Palm Beach Health Network's relationship with United Surgical Partners International (USPI).
"Currently, many Martin and St. Lucie County residents travel south to seek advanced healthcare services," said Maggie Gill, Chief Executive Officer, Palm Beach Health Network. "With the future opening of the Florida Coast Health Network, we will be able to create a stronger healthcare infrastructure with high-quality care for the Treasure Coast community."