New South Florida center designed to improve clinical outcomes and recovery time
Tenet Healthcare's Palm Beach Health Network is building a new resource for South Floridians in need of quality orthopedics and spine care. West Boca Medical Center will soon open The Boca Center for Orthopedics and Spine Care with skilled surgeons using leading edge robotic technology to produce better outcomes. By providing even more access to quality care, Tenet demonstrates a continued commitment to improving the health of the state.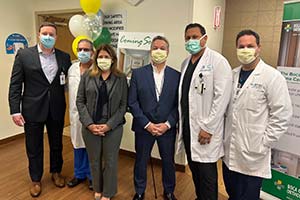 "This new center is essential to providing some of the top orthopedic and spine care in our community so patients can receive the most precise and least invasive treatment options in our area," said George Rizzuto, Chief Executive Officer of West Boca Medical Center. "Our dedicated staff and surgeons are experts in minimally invasive procedures giving our patients a chance to heal quicker and get back to their daily activities."
The center is designed to provide seamless continuity of care with advanced treatment options and a dedicated patient navigator. To help with the transition from surgery to recovery and rehabilitation, the center will offer a private, specialized area within the hospital. Some additional benefits include:
Separate private entryway within the Medical Surgical unit
Eight patient rooms
New orthopedically designed walk-in showers
Inpatient rehabilitation
Outpatient physical therapy
"The investment in this center will truly make a difference in a patient's clinical outcome and recovery time which will only enhance the offerings here at West Boca Medical Center," said Dr. Ashish Sahai, Chief of Surgery at West Boca Medical Center. "A key part of this program will be the continuum of care a patient receives from our team from the moment they walk through our doors to the time they are able to be discharged home. We will monitor patients every step of the way."
Patients at the center undergoing inpatient joint replacements can benefit from either the Mako Robotic-Arm Assisted Surgery System or the CORI Surgical System. Both robotic systems afford enhanced accuracy, potential for longer-lasting implants, less post-operative pain, and a quicker recovery.
The Mako Robotic-Arm uses a CT scan to create a 3D model of the patient's unique bone anatomy. During the surgery, the Mako robotic arm provides real-time information to guide the surgeon in positioning and aligning the implant.
West Boca Medical Center is also the first hospital in Boca Raton offering the CORI Surgical System. The CORI system uses an advanced computer program to map out the shape and motion of the knee so a surgeon can create a completely tailored, 3D surgical plan.