USPI gives back during Season of Gratitude
USPI recently hosted "Season of Gratitude," a month-long initiative inviting USPI colleagues across the company to participate in activities that demonstrate gratitude for each other and their respective communities. The parameters were to spearhead a project or activity to support a local organization meaningful to their team.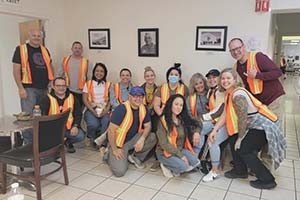 As a result, over 80 facilities across USPI rallied to support of over 75 different non-profit and community organizations. Benefitting organizations spanned a variety of philanthropic causes and included food banks, homeless shelters, youth programs, veteran resource programs, animal rescues and many others. USPI awarded 15 of the most inspiring projects with an additional contribution to support the benefitting organizations on behalf of the enterprise.
"Giving back to local communities and supporting our neighbors helps us further our mission," said Brett Brodnax, President and CEO of USPI. "I am extremely proud of the generosity and enthusiasm shown by colleagues who donated their time to address the needs of their communities."
Top 15 Most Inspiring Projects of 2021:
Bon Secours Surgery Center at Virginia Beach, Connect With A Wish
Endoscopy Center of South Sacramento, Gifts From The Heart
Lakewood Surgery Center, Jersey Shore Animal Shelter
Lawrenceville Surgery Center, StreetWise Mission
Memorial Hermann Surgery Center Greater Heights, Special Olympics East Texas
Memorial Hermann Surgery Center, The Woodlands, Breakfast with Compassion United
Mercy Surgery Center, Wings of Angels
Parkwest Surgery Center, Toys for Tots Nashville
Same Day Surgery Center River North, Cradles to Crayons Chicago
SurgCenter of White Marsh, Pitties & Purrs
Surgery Center of Peoria, Raising Arizona's Men
Toms River Surgery Center, Wounded Warrior Project Carry Forward Virtual 5K
TOPS Specialty Hospital, Camp 4 All
Westgate Surgery Center, St. Mary's Food Bank
White Fence Surgical Suites, Pack-A-Sleigh