Five Apps for Help with Joint Pain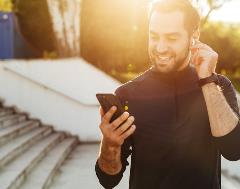 If you're looking for ways to manage joint pain in your knees or hips, there may be an app for that. We researched some free apps that can help you and your doctor easily track your joint pain journey. These apps are also beneficial to patients who will have or have had surgery.
My Knee Guide
This app is a great resource for patients preparing for knee replacement surgery and patients who've just gone through surgery. It provides information and current news about arthritis, checklists, reminders and first-person accounts of other people's knee pain experiences.

With this interactive app, you can also share your own story and comment on other users' accounts. You can download My Knee Guide free.


Knee Pain Exercises
This app offers safe and effective video exercises for knee pain treatment. The developers of the app add new programs every week to keep things fun and progressive for patients.

You can download it free, but if you want to access exclusive exercise programs, you may want a premium membership for $9.99 per month.


RecovAware Knee Health Fitness
This free app is perfect for patients recovering from a knee injury or managing knee pain. It allows you to input and track your daily pain levels, physical activities, swelling levels, medications and doctor appointments and write anything you feel or think through the take note tool. RecovAware also features photo uploading and collage makers for before and after photos.

Likewise, you can gain support and motivation, ask questions and get answers from the RecovAware community.


myHip&Knee
Another app helpful for patients considering, undergoing and recovering from surgery, myHip&Knee offers a library of exercise videos and safe home recovery information. The app also allows you to track progress for joint range of motion, pain levels and other symptoms.
Track + React
This app aims to monitor the impact of your daily activities on your arthritis symptoms. It has a simple interface that allows you to track your food intake, physical activities, pain and stress levels, sleep quality, fatigue and more.

Through daily logging, Track + React can help you understand which activities and types of food trigger your knee pain. It also offers an arthritis impact graph that you can print for your next appointment with your doctor. You can also download this app free of charge.
Final Thoughts
Please note that our hospital is not endorsing any specific app; we are here to help you at all stages of orthopedic care. If you have ongoing joint pain or swelling, please visit an orthopedic doctor or a rheumatologist right away.
Sources:
American College of Rheumatology
App Advice
Arthritis Foundation
Centers for Diseases Control and Prevention
Healthline
My Knee Guide