Caring Through Cardiac Emergency
by User Not Found on Aug 25, 2020, 01:21 AM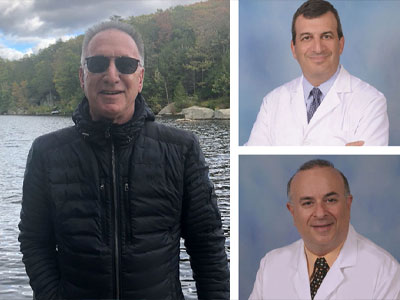 Bruce Lieberman | Dr. Eric Lieberman | Dr. Arthur Weiner
Delray Medical Center
Delray Beach, FL

Amid the April state-wide shutdown in response to the COVID-19 pandemic, Dr. Eric Lieberman of Tenet Florida Physician Services, staff member at Delray Medical Center in Delray Beach, FL, and National Medical Director of Cardiology for Tenet Healthcare, remained well-attuned to the care of each of his patients through telehealth services, ultimately saving the life of patient Bruce Lieberman.
According to Delray Newspaper, Bruce, 70, had symptoms of chest tightness and shortness of breath. Dr. Lieberman (not related to Bruce), followed-up with him via a telehealth appointment to discuss the symptoms reported, quickly deciding Bruce needed cardiac testing at the hospital.
At Delray Medical Center, Dr. Arthur Weiner, also of Tenet Florida Physician Services, performed a heart catheterization to "open up critical blood flow back into Bruce Lieberman's heart," states Delray newspaper.
The procedure saved Bruce's life, and has allowed him to return to playing golf and exercising.
Dr. Lieberman's telehealth services continue to be a successful strategy for ensuring Bruce remains healthy, as the pair have met for two virtual follow-up visits to discuss Bruce's ongoing care.
"I seem to be more positive going forward now, knowing this is in the rearview mirror," Bruce shared with the paper.