Reuniting a Father with his Family
by User Not Found on Jul 19, 2020, 23:44 PM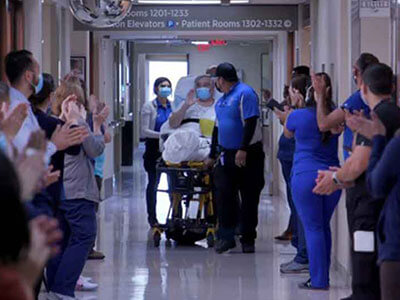 After a 47-day fight with COVID-19, 68-year-old Roberto Mata received the celebration he deserved from hospital staff as he left The Hospitals of Providence Memorial Campus in May. Caretakers lined the hallways and cheered as Roberto was reunited with his children for the first time since he was initially admitted to the hospital.
"It was a very emotional day to be reunited with our Dad and to be able to see and hug him," said Chris Mata, son of Roberto Mata. "With how sick he was, there were many days we didn't know if he was going to make it, but we kept our faith… knowing he was in the best care."
Roberto and his beloved wife, Mary Alice Mata, greeted each other with pressed palms against the glass of their truck.
"Mr. Mata is an incredible story of strength and courage with the mentality to always continue fighting," said Mark Phillips, chief nursing officer for The Hospitals of Providence Memorial Campus. "Moments like these are the greatest victories for our nurses, physicians and healthcare providers. To see Mr. Mata reunited with his family was a very moving moment for our entire team."
Following his discharge, Roberto began physical therapy at the The Hospitals of Providence Sierra Campus Inpatient Rehabilitation Unit.
"We are eternally grateful to the entire team of nurses, physicians, therapists and healthcare providers for bringing him back to us," said Chris Mata. "Thank you to these heroes who have given us many more days and time with our Dad."