From Teach For America to Tenet Healthcare
Apr 20, 2021

In 2009, Patrick Roberts, Director of Corporate Development, began his career teaching high school math in the Dallas-area as part of Teach for America. In the below Q&A, he explains how he got involved, the impact of this experience and how Teach for America shaped his career at Tenet.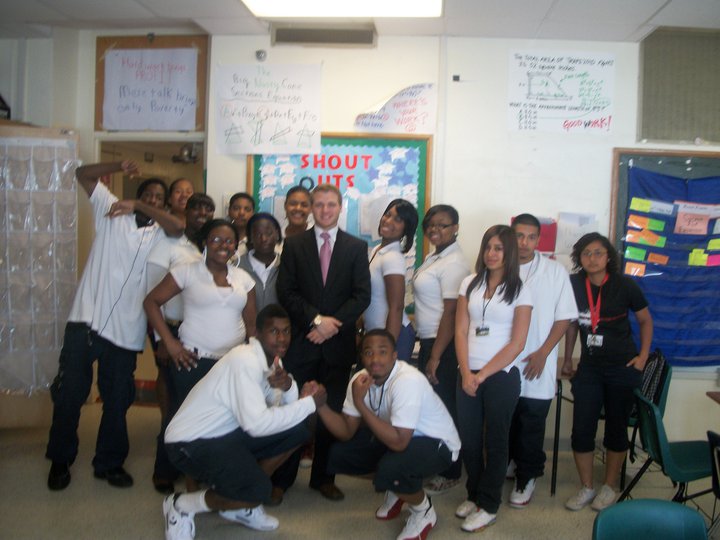 Why did you decide to get involved in Teach For America?
I grew up around role models focused on giving back to the community. My mother was a teacher in underserved areas, so I witnessed early on how education in our country is one of our greatest needs. My grandfather served in the Army during WWII, and in many ways, my relationship with him influenced my desire to serve my country after graduating college. I also had strong high school instructors that shaped my success in college. I figured that helping on the front lines to help solve one of our nation's greatest problems, little by little, was a good way to serve my country.
Tell us about your time with TFA? What was your experience like?
I taught high school math for two years in Dallas. I was a finance major in college, so teaching math was a natural fit. The kids were great and despite challenges, they were a joy to teach. The vast majority of my students arrived in my classroom typically two or three grades below level, but they were eager to learn, willing to work hard, and super receptive of instruction that was organized, coherent, relevant and fun. As a new teacher, my students were also willing to give grace when needed as I learned the job.
I also served as a volunteer teaching mathematics enrichment to fifth graders at my local elementary school prior to the birth of my daughters. Since my children were born, my focus has shifted, but I'd like to become involved again someday.
While there are undoubtedly so many meaningful stories, is there one, in particular, that stands out from your experience?
During my second year of teaching, I taught Math Olympiad. I had several bright students (one of whom was accepted to USC) compete among some of the best schools in Dallas. Several of my students placed among the top in the district, including one student who placed first overall (beating students that came from much better schools). We were the underdogs, and we won. It doesn't get much better than that!
Another story I will never forget is about my most challenging student. He was a senior and several grades below level, failing my class and struggled with behavior problems. He had one last chance to pass his state standardized test to graduate, and on the day before Christmas Break, he grew really angry with me when I confiscated his phone. Knowing he was going to be faced with dire consequences, I struck a deal with him: come to my classroom every day after school for tutoring. To my surprise, he showed up nearly every day, took his state test, and passed. At graduation, he gave me a huge hug and said that I was the only one who never gave up on him. To this day, that experience reminds me the importance of patience and taking caring of others in your community, no matter the circumstances.
What was challenging about the experience? What did you learn from overcoming those challenges?
I think that the greatest difficulties were the learning gaps and years of low expectations that had been fostered in the school system. Upon entering my classroom, less than 35 percent of my students had passed their state mathematics standardized test in the prior year. In an underserved classroom, you're faced with dozens of challenges each day from white boards and markers that don't work, systemic poverty, students below grade level, language barriers, and classroom interruptions (during my first year, I had bees invade the classroom during a lecture).
Being part of Teach for America taught me to be patient, listen well, and to give everyone a chance. At the end of my first year, over 85% of my students had passed, thus allowing each of those students to graduate from high school. It was a huge reminder that at the end of the day, it wasn't about me; it was about the kids, and what they could accomplish.
How did your experience with TFA shape your career at Tenet?
The experience taught me to focus on the problems you can solve and not to stress about those items that are out of your control. Personally, it shaped my view of the world considerably and helped strengthen my faith. Professionally, it helped me to become a better problem solver and taught me the importance of fighting the status quo when it doesn't yield results.
What advice would you give to those who might want to get involved with TFA?
I would highly recommend the organization and for individuals to consider assisting with volunteer organizations aimed at closing the achievement gap. Consider it and consider supporting education in any way you can. We desperately need smart, hardworking, caring leaders to tackle one of our nation's biggest problems.