The Hospitals of Providence Memorial Campus becomes first in El Paso to offer new minimally invasive lung biopsy technology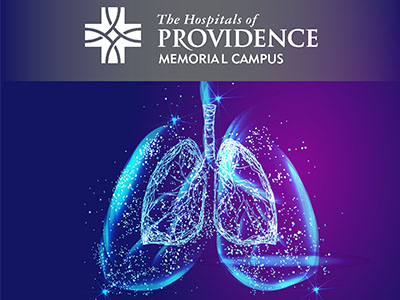 The Hospitals of Providence Memorial Campus recently became the first in El Paso to now offer patients a new, minimally invasive option for lung biopsy, known as Illumisite lung navigation technology.
The Hospitals of Providence Memorial Campus is now using a fluoroscopic navigation technology for bronchoscopic biopsy of the lung to aid in the diagnosis of lung lesions. This method allows for advanced maneuverability and navigation through narrow airways to nodules and provides physicians with enhanced visibility and expanded access to difficult to reach lesions.
"We're excited to be able to offer this novel, minimally-invasive technology to our patients," said Dr. Hector Payan, Pulmonologist and Critical Care Specialist. "This tool allows us to reach areas in the periphery of the lung that were not accessible before, allowing patients to receive an earlier definitive diagnosis and treatment plan, which can give them a better chance of a successful outcome."
The advanced features of the navigation technology give physicians a level of precision when performing bronchoscopies for lung nodule biopsy. With its unique fluoroscopic navigation technology utilizing tomosynthesis, physicians have greater accuracy throughout the biopsy procedure, especially for hard-to-reach lesions that may be located outside visible airways.
"The Memorial Campus is proud to bring this needed technology to our community to help earlier detect and diagnose lung cancer," said Rob Anderson, CEO for The Hospitals of Providence Memorial Campus and Providence Children's Hospital. "This is another example of our continued dedication to improve cancer care for our community and provide our patients with better outcomes close to home."