The Hospitals of Providence Memorial Campus recognized for vascular care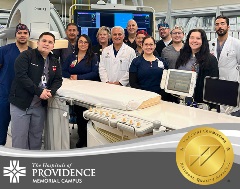 The Hospitals of Providence Memorial Campus was recently accredited as a Peripheral Vascular Disease Center of Excellence by the Joint Commission. This makes the Memorial Campus one of only two hospitals in the nation, and the first in Texas, to receive this designation.
Hospitals receiving the Peripheral Vascular Disease Center of Excellence designation have demonstrated their commitment to consistent, high-quality peripheral vascular care and patient outcomes.
Peripheral Vascular Disease (PVD) is a slow and progressive circulation disorder causing the narrowing and/or blockage of a blood vessel which reduces the blood flow to limbs. According to the Centers for Disease Control and Prevention (CDC), approximately 6.5 million people ages 40 and older in the United States suffer from PVD.
"Since we established El Paso's only PVD program in 2016, our team has been dedicated to educating our community and patients on this debilitating disease," said Dr. Laiq Raja, Cardiologist and Medical Director for the Peripheral Vascular Disease program at The Hospitals of Providence Memorial Campus. "Six years later to have our team's efforts recognized nationally for the care we are providing and the difference we are making in our patients' lives is truly rewarding. With El Paso having a high incidence of PVD and diabetes, this is a serious issue, and it is critical that we bring more awareness to this disease and program to reduce the incidence of the disease and complications from it, which include severe pain, non-healing wounds and limb amputation in the affected extremity."
The Hospitals of Providence Memorial Campus established the PVD program in 2016 and continues to advance and expands services. Is multidisciplinary team of specialists work together to identify the appropriate tests and treatment needed for the patient when presenting with PVD symptoms. The dedicated nurse navigator guides patients form the beginning of their care through the recovery process.
"This is a tremendous achievement – to be one of only two hospitals in the nation and the first in Texas to achieve this designation is a significant reflection of our team's commitment and dedication to excellence," said Rob J. Anderson, CEO for The Hospitals of Providence Memorial Campus and Providence Children's Hospital. "Six years ago, we saw a need for our community and invested in this program to ensure patients from throughout the region had access to this needed care and treatment. We are incredibly proud of our team for their dedication to providing outstanding care and making a difference in the lives of our patients."