Honoring the contributions of veterans and their families
As we celebrate Veterans Day together, Tenet is honored to recognize its team members, patients, family, and friends who are veterans and military heroes. These men and women have made countless sacrifices to serve and protect our country with bravery and selflessness.
To celebrate, our colleagues across Tenet, United Surgical Partners International (USPI), and Conifer found unique ways to honor the contributions of veterans and their families.
Serving homeless veterans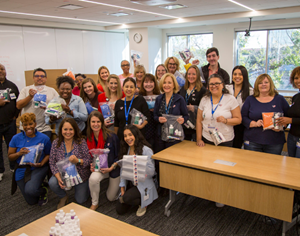 Tenet, USPI, and Conifer team members at the Dallas corporate office recently organized an initiative to support homeless veterans in the area through a partnership with Homeless Veterans Services of Dallas, Inc. (HVSD). HVSD is a 501(c)(3) non-profit organization that works to meet the needs of veterans and their families. In collaboration with the VA North Texas Health Care System, HVSD coordinates stand down events, which provide supplies and services to homeless veterans.
Volunteers at Tenet packaged more than 500 amenity kits to be distributed at an HVSD Operation Stand Down event, filled with toothpaste, hand sanitizer, shampoo and body wash, lotion, razors and shaving cream, rain ponchos, and other personal care and hygiene items. Team members also crafted hand-written notes of encouragement and gratitude to be included in the amenity kits.
Hiring heroes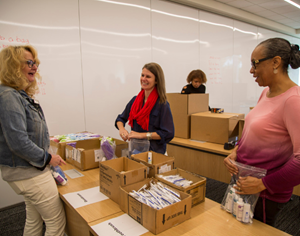 Baptist Health System hosted a Veterans Day thank you luncheon for local Veterans at Mission Trail Baptist Hospital in San Antonio. Intended to target military members transitioning from service to civilian life, the event connected local veterans with MTBH leadership, veteran staff members, and recruiting representatives who shared information about career opportunities at Baptist Health System. The event also featured a moment of silence in honor of veterans who have served.
"A career in healthcare requires a level of dedication and provides a feeling of purpose, similar to serving in the military," said Matt Luke, USPI Regional Vice President, West Region, Executive Sponsor for Tenet's Veteran ERG, and Veteran, United States Marine Corps, Tank Company Commander. "Many of our veteran team members across the enterprise take the valuable lessons they learn from their military service and apply them to serving the needs of our patients. The perspectives and experiences of these individuals strengthen our culture and the communities we serve."
Supporting military spouses
Conifer Health Solutions was recently inducted as a new partner of The Department of Defense Military Spouse Employment Partnership, a targeted a targeted recruitment and employment solution connecting military spouses with hundreds of partner employers who have committed to recruit, hire, promote, and retain military spouses.
Conifer joins more than 650 program partners, who are committed to targeted recruiting of military spouses who often experience barriers to finding and maintaining careers due to frequent relocation.
Tenet is proud to honor and extend a heartfelt thanks to all members of the military on Veterans Day. Their contributions make the enterprise and communities it serves stronger, each and every day.