New acute care hospital in Fort Mill opens to meet growing community's needs
Piedmont Medical Center – Fort Mill, a newly constructed hospital in Fort Mill, South Carolina, opened its doors to patients in early September. The 100-bed, 200,000 square foot facility has new equipment, innovative technology and a dedicated staff prepared to meet the growing needs of patients in the region.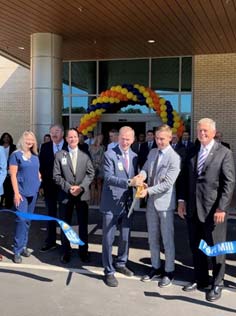 Piedmont Medical Center – Fort Mill offers a 12-bed full-service emergency department supported by board-certified physicians, as well as six multi-specialty operating rooms, 10 labor and delivery rooms, a 10-bed ICU and a 76-bed medical/surgical unit. The campus also includes a 60,000 square foot medical office building for primary care, obstetrics, surgery and cardiology.
"Opening a brand-new hospital in Fort Mill is a reflection of our deep commitment to meeting the growing healthcare needs of York County," said Chris Mitchell, chief executive officer of Piedmont Medical Center – Fort Mill. "We welcome the opportunity to serve our neighbors with the same high level of care they are accustomed to receiving at Piedmont Medical Center – Rock Hill."
"We have wanted to build this hospital for a long time," said Mark Nosacka, market chief executive officer of Piedmont Medical Center – Fort Mill and Piedmont Medical Center – Rock Hill. "It is finally coming to fruition. However, we are more excited about what comes next. It is the beginning of an exciting new chapter."