Carondelet nurse recognized as a DAISY Award winner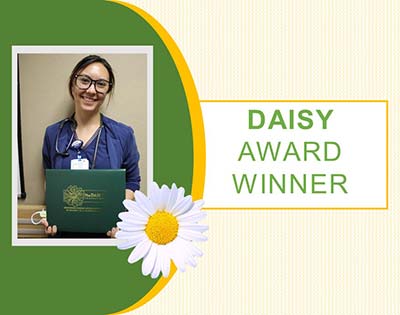 Roxanne Garza, RN in the Progressive Care Unit (PCU) at Carondelet St. Mary's Hospital was recently recognized as a DAISY Award® winner.
The DAISY Award® For Extraordinary Nurses (The DAISY Award) is presented by The DAISY Foundation to outstanding nurses who demonstrate excellence through their clinical expertise and extraordinary care. Recipients are honored for the way they serve patients and their families.
Roxanne was nominated by a patient who was hospitalized after experiencing a heart attack. The patient spoke highly of Roxanne's ability to not only meet his physical needs during hospitalization, but her commitment to upholding his mental well-being. Roxanne outlined daily goals for the patient and explained how accomplishing them would aid in his long-term recovery.
Roxanne took extra time at the change of her shift to introduce the incoming nurse, providing another layer of comfort and familiarity with the medical staff.
"We have the privilege of witnessing the amazing dedication that our nursing staff provide our patients every day, so we are excited to have Roxanne recognized as a DAISY Award winner," stated David Ziolkowski, chief executive officer, Carondelet St. Mary's Hospital. "Having members of our staff honored with the DAISY Award is just one example of how we are successfully achieving our goals."
Tenet's participating hospitals and other healthcare facilities join more than 5,000 healthcare facilities and schools of nursing in the United States and other countries and territories committed to honoring nurses with The DAISY Award®.