USPI's Donita Fleming earns recognition for outstanding leadership
United Surgical Partners International's Donita Fleming, Market President (Dallas/Fort Worth), was recently recognized by the Dallas Business Journal as 2022 'Women in Business' honoree.
This year's honorees are accomplished leaders across various industries, including legal, marketing, healthcare, nonprofit, technology, banking and real estate.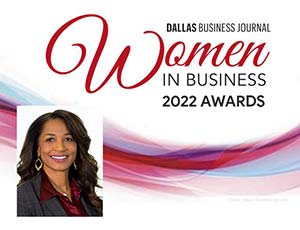 In addition to her work at USPI, Donita also serves as the executive sponsor for Tenet Healthcare's African American employee resource group, where she supports key diversity and inclusion programs for the enterprise.
Donita has more than 25 years of experience in hospital and ambulatory operations. She joined USPI in 2015 as an administrator/CEO at The Memorial Hermann Surgery Center-Texas Medical Center. She quickly excelled to areas of increasing responsibility, expanding her operational oversight to include additional facilities and markets. She was promoted to her current position of market president in 2022 as a result of her strong leadership and performance.
"We are proud to celebrate Donita together with the Dallas Business Journal for her outstanding leadership," said Peter Blach, Chief Operating Officer of USPI. "Donita is a role model and strong advocate for her team, as well as a top performer who continually sets a high bar for success."