Expanding care in South Carolina with a new nursery for newborns
Coastal Carolina Hospital recently opened a Level 2 Special Care Nursery to complement its maternity services.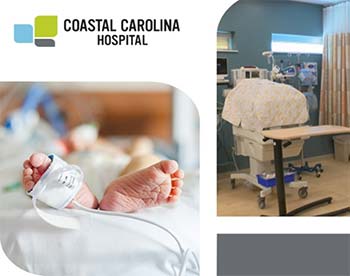 The nursery is equipped to care for preterm infants from 32 weeks gestation to term and weighing 3 lbs., 3 oz or more. The nursery is staffed by a neonatologist, neonatal nurse practitioners, Level 2 registered nurses, speech-language pathologists, occupational therapists and lactation consultants.
"Together, this team will work with obstetricians and pediatricians to provide comprehensive advanced care for those patients who need extra support in their first days of life," said Dr. Tung Giep, neonatologist and medical director of the nursery.
"Adding a Level 2 Special Care Nursery is a direct response to the community's growing need for advanced care for moms and babies," said Joel C. Taylor, Chief Executive Officer of Hilton Head Regional Healthcare. "The nursery will support the hospital's other maternity and infant services and provide an additional point in the continuum of care."
Coastal Carolina Hospital is part of the Hilton Head Regional Healthcare system.