Tenet engineer authors children's book about the importance of diversity and inclusion
Rodgerick Williams II was only five years old in 2020 when "Black Lives Matter" became the topic of discussion at his dinner table. At the time, "Little Rod" was mostly interested in dinosaurs, but one day he couldn't take his figurines to the park because it was crowded with protesters. His dad, Rodgerick Williams, seized the opportunity to teach his son about diversity and inclusion. "Big Rod" wrote an analogous children's book called "All Dinosaurs Matter" to help his son understand different perspectives in the "Black Lives Matter" movement.
"You've got Blue Lives Matter, Black Lives Matter and All Lives Matter so All Dinosaurs Matter kind of ties it all together," said Williams, a National Director of Biomedical Engineering at Tenet Healthcare. "I asked my son which dinosaurs would hang out together if they were all at the park. Then we created the characters and the plot together as a family."
Big Rod hired an illustrator as well as an editor and after three months, he had created his own publishing company to print the book.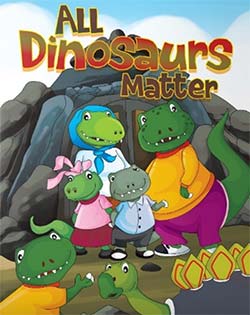 "I'm a National BioMed Director so I'm supposed to solve problems," added Williams. "I've written books before, but I've never published. When I finished writing this book, I said, 'I've got something. This is something for the world to hear. I've actually made a literary contribution to the planet earth with this.'"
"This book is a great reminder of the diversity and inclusion principles that we share at Tenet," said MJ Arion, Senior Vice President and Chief Human Resources Officer for Field Operations at Tenet Healthcare. "Each of us matter as human beings and we should respect our differences. Rodgerick is a great example of how our employees live our values even outside of the workplace."