Minimally invasive cardiovascular procedure helps give young Detroit father a second chance at life
The cardiovascular team at the Detroit Medical Center (DMC) recently shared a story about Dontae, a young Detroit father of two, who had an infection in his heart which led to a stroke.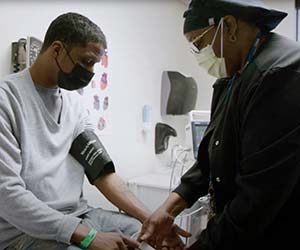 After passing out at home, Dontae was brought to the ICU. The mitral valve in Dontae's heart was damaged and there was concern of another stroke, or worse. Dontae's mother, Elonda, shared, "It was very hard to see a young man like that in his condition, not knowing if he was going to make it."
Dontae was cared for by Dr. Kaushik Mandal, cardiothoracic surgeon at DMC's Sinai-Grace (SGH). The unique expertise of the SGH cardiothoracic team was critical. They performed a minimally invasive mitral valve replacement, which resulted in smaller incisions, less pain and a quicker recovery for Dontae.
"I'm grateful for the DMC team," added Elonda. "They brought my son back."
Watch their story of recovery here: https://bit.ly/3r1fNlz