From Marine Tank Commander to Regional Vice President
How Major Matt Luke made the successful transition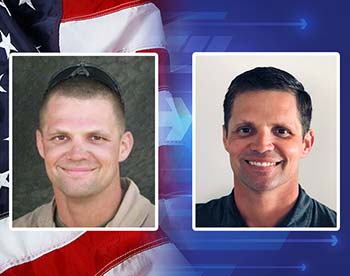 Matt Luke currently serves as Regional Vice President for USPI, where he oversees Ambulatory Surgery Center operations in the Western region. We sat down with Matt to talk about how his military service helped prepare him for the next stage in his career.
What was your role in the military?
I was a Major for the United States Marine Corps - Tank Company Commander.
Why did you choose the Ambulatory Surgery Center (ASC) industry?
I selected ASCs for two primary reasons: first was the mission; and second, was the ability to work with strong, close-knit teams.
When I left the Marine Corps in 2015, I didn't think I would ever find a similar fulfillment from my profession or from colleagues, but I was wrong. I love being engaged in all the right change in healthcare. It has also been my experience that our administrators, nurses, and techs are the absolute best of the best in our industry – they'd make great Marines.
What military experience is useful for ASCs?
As a Marine, my job and daily duties were fast-paced and change management was constant. I learned what leading through change really looked like. We have a lot of that in ASCs. I think being able to operate confidently and maneuver quickly through tough situations has been a huge asset to my role as an RVP.
I also learned how to be an accountable leader and how that really drives the success of your team. Obviously, the stakes are quite high, and I was fortunate to learn some tough and important leadership lessons early in my career. I take each of those lessons and apply them to my current position at USPI.
As a Marine, what was a standout moment for you?
Throughout my time, I was extremely lucky to experience different types of deployments to many unique places. Most of my experiences were combat-related, but the one humanitarian deployment I completed was my most profound experience. I flew into Haiti, off a Navy ship, just a couple of days after the 2010 Earthquake.
We spent two months helping small towns outside Port Au Prince. We brought them healthcare, food, and water that they desperately needed. Being a small part in helping them recover after that disaster will always be a core moment in my life. I was extremely proud of the help we were able to provide and the comfort we gave to the residents.
What piece of advice you would give to a Marine or veteran that is trying to make the transition from the military to the corporate world?
I would advise them to reach out to those who have already transitioned and get their perspectives and advise.
The military/veteran network is without rival – but it's up to transitioning veterans to use it. Also, make sure, at a minimum, to leverage transition resources available to learn about non-profits, for-profits, and veteran-friendly employers that are eager to work with transitioning veterans.