Expanding care in El Paso with new heart and brain center
After 10 years of development, The Hospitals of Providence Sierra Campus in El Paso recently unveiled its new Heart and Brain Center. The center will provide high-quality, localized cardiology and neurology services to the region.
"Seeing this center come to fruition to offer our heart and brain patients high-quality care close to home is a huge win for our community and the patients we serve," stated Dr. Edward Assi, Interventional Cardiologist and Medical Director of Cardiology Services for the Sierra Campus.
The Heart and Brain Center offers the only Structural Heart program in the region providing patients transcatheter aortic valve replacement (TAVR), mitral valve replacement, the Mitral Clip procedure, and the Watchman procedure – all used to treat structural heart conditions in a minimally invasive way. The neuro center is also equipped with an Epilepsy Monitoring Unit to treat, diagnose, and manage patients suffering from epilepsy and seizures plus specialized equipment for the best imaging and surgical capabilities. The dedicated Inpatient Rehabilitation Unit offers comprehensive care to help patients regain function and prepare them for independent living.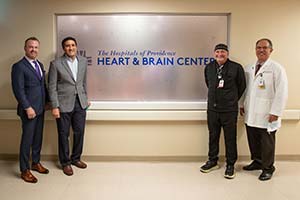 The Hospitals of Providence Sierra Campus was recently recognized for the fourth year in a row as one of 42 hospitals in the country – and the only hospital in El Paso and the surrounding area – as a HeartCARE Center of Excellence by the American College of Cardiology, the highest cardiology designation possible. It is also recognized as a Level 1 Comprehensive Stroke Center, offering the highest level of care for stroke patients.
"We are incredibly proud of our team for their steadfast commitment to advance and expand needed cardiology and neurology services for the El Paso region," said Rob J. Anderson, Chief Executive Officer for The Hospitals of Providence Sierra Campus. "As the epicenter for Heart and Brain services for The Hospitals of Providence, our goal has been to provide patients one convenient location throughout their treatment and care and this center does just that."