Preparing future licensed vocational nurses for success
Andrew Smith, 25, recently joined Baptist Medical Center as a licensed vocational nurse (LVN). While many in the San Antonio community gathered for traditional New Year's Eve celebrations, Andrew was caring for patients in the Telemetry Unit of the hospital.
"It can be scary for someone to be sick and in the hospital, especially during the holidays," stated Andrew. "I enjoy making them feel like they are a part of our family while they are in our care."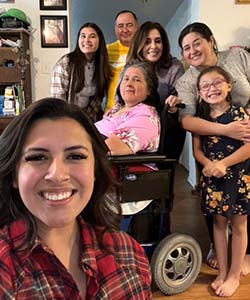 Inspired by a calling after caring for her grandmother, Adriana Zamora, 22, knew at a young age that she was meant to be a nurse.
"When I was three years old, I saw my grandmother suffer a stroke. From then on, I knew I wanted to be by her side and help take care of her," said Adriana. "Her strength motivated me, and I knew I could help others in the same way I was helping her."
As part of Adriana's educational training at the Baptist School of Health Professions, she took part in a clinical rotation in the neurology unit at St. Luke's Baptist Hospital, which is part of the Baptist Health System. It's also the same facility her grandmother received care for as a stroke patient.
Andrew and Adriana share a similar path and combined passion for nursing. Prior to becoming an LVN, Andrew graduated from the Vocational Nursing Program at the Baptist School of Health Professions. Adriana is currently in her second semester in the same program, where she has experienced different clinical environments including the neuro unit of St. Luke's Baptist Hospital, the simulation lab, and the ER.
Across the country, the need for LVNs is growing. According to the U. S. Bureau of Labor Statistics, the need for Licensed Practical and Licensed Vocational Nurses is estimated to grow nine percent between 2019 and 2029.
The Baptist School of Health Professions' program offers aspiring nurses the education and training necessary to start a healthcare career and prepares them for the national licensure exam. The skills attained provide the foundation to care for patients in a variety of settings including hospitals, nursing homes, physician offices, home health settings, and clinics.
"The Baptist School of Health Professions has amazing faculty members who want every student to succeed in their profession," stated Andrew. "They train us well and connect us with resources and career opportunities."