Improving Healthcare Access: Q&A with USPI's Senior Director of Development Strategy & Special Projects
Pam Yoo, USPI's senior director of development strategy & special projects, has brought her passion for healthcare to a variety of roles throughout her career. In the below Q&A, Pam shares what inspired her to enter the healthcare field, how ambulatory surgery centers are improving patient access, and what she has learned along the way.
Did you always know you wanted a career in healthcare?
Actually, no. Growing up, I always thought I would go into the legal profession, but like so many others, a personal experience inspired me to pursue a career in healthcare. My younger brother passed away when he was 19 years old after a heroic battle with cancer. During his journey, I witnessed many different parts of healthcare and met the most wonderful people who truly put their hearts into caring for patients. After my brother passed away, I knew I wanted to work in healthcare where I could contribute to improving patient care and help support our amazing healthcare workers.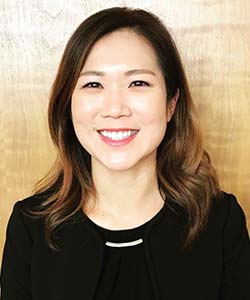 You have served in a variety of healthcare settings. How has your experience led to your current role?
My first experience working with Tenet was serving as chief strategy officer at San Ramon Regional Medical Center, one of our hospitals in California. My focus was on the overall growth of the hospital which included strategic planning, new program development, marketing, and business development. It was an incredible opportunity and an unforgettable experience working with the most hardworking, passionate, and caring colleagues.
About a year ago, my husband and I decided it was time for a big change and found ourselves heading to the Dallas area. I knew I wanted to stay with the Tenet family, if possible, and I was so fortunate to transition to USPI's development team.
Tell us about your current role.
I work in the strategy and special projects arm of the development department, where my responsibilities include ensuring we have defined standards and tools to understand our current state, set short- and long-term goals, monitor progress, make decisions, and evaluate the market landscape. I also support the integration process for all the new ambulatory surgery centers (ASCs) transitioning to USPI.
Why is the expansion of ASCs so important to USPI and the healthcare industry?
Historically, hospitals were the only place a patient could go for surgeries and medical procedures. ASCs are important as they provide more access points for patients to receive high-quality care at a lower cost. ASCs are also important for our physician partners who now have more options when determining the best place to provide care for their patients.
Enterprise-wide, Tenet's employee population is approximately 80% female. What has your experience been like to learn from female leaders?
I appreciate Tenet and USPI's commitment to fostering diversity and inclusion, and it's inspiring to see so many women working within the organization especially in leadership positions. My first role in healthcare was as a night shift unit secretary in the neonatal intensive care unit. Looking back at my career path, I have had a lot of phenomenal women to look up to – from bosses and mentors to healthcare leadership team members. They all played an important part of my development from providing support to helping guide me while I navigated my career. I am so grateful to them and for the extra time they took to give me advice and be my biggest advocates.
What advice would you offer to those early in their career?
Don't be shy about asking for help or reaching out to connect with someone you admire. What I learned about this industry is that it's a very small world, full of incredibly caring and helpful people, who are willing to take the time to support you in reaching your goals. At the same time, pay it forward and help guide others who are interested in working in healthcare and joining the team to provide healing in our communities.