Honoring Black History Month and the power of learning
Donita Fleming serves as the Regional Vice President for USPI's Dallas Fort-Worth market and oversees the operations of two ambulatory surgery centers and eight surgical hospitals.
I want to begin Black History Month by sharing how my history, family values, and passion for education shaped the trajectory of my life and career path.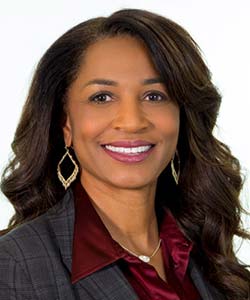 My mother was a senior in high school when I was born. An extremely smart and motivated young woman, she had the opportunity to attend Western Michigan University on an academic scholarship. While my mom worked hard to obtain Bachelor and Master of Science degrees in applied mathematics and computer science, I lived with my grandparents. Both of my siblings followed in my mom's footsteps and obtained their higher education degrees in a technology-related major. I chuckle a bit because I'm the only one in my family who doesn't have the technology gene, and my mom and siblings often serve as my personal IT support – this also includes my 12-year-old niece who helps me with all things iPhone.
My family has always been passionate about education. There was never a question as to if I was going to college but where I was going to college. Drawn to athletics at a young age, I attended Ohio University on a track and field scholarship where I competed in heptathlons. Mid-distance and field events were my specialty.
Early on, I could see the power of learning and the freedom education allowed. As a high school athlete, I had the unique opportunity to see behind the scenes of a local physical therapy clinic. I would go there for treatments and witness how the physical therapist helped people recover, me included. This experience confirmed my attraction to a career in healthcare. It is a field that is constantly changing and evolving, and I treasured the thought of one day being able to help people heal from an injury or ailment and return to their sport or regain the ability to perform activities of daily life.
After college, I worked as a physical therapist and later obtained a Master of Science in Healthcare Administration. I was incredibly fortunate to then land a job as the associate administrator for a hospital in a suburban community outside of Houston. This was the beginning of my career as a hospital operations leader. Looking back, my career has taken several twists and turns along the way. My unique path truly shaped me as a leader, challenging me to new heights and allowing me to build a group of personal mentors.
I worked in many operational leadership roles at different hospitals serving communities of all sizes. Prior to joining USPI in 2015, I served as Vice President of Operations for MedStar Washington Hospital Center, which is the No. 1 Trauma Center in Washington, DC. I was there during the Washington Naval Yard Shooting in 2013, a harrowing time when we cared for some of the victims from that tragic event.
I feel at home at USPI and am so grateful to have this opportunity and career. Being a leader is a big job; it is much more than just a title. Good leaders have integrity; they earn the trust of those around them; they are transparent; they have business acumen. A good leader also has humility and knows that you should never stop listening and learning.
On the first day of Black History Month, I reflect on the past and where we are today. We need to be able to understand the past and how it impacts us today – not to place blame or cause pain, but to learn. Learn how the past has shaped who we are today, as well as learn what we can and want to change about our present and our future.
I encourage everyone to take a moment this month to learn about the contributions of our black community, past and present. Supporting a local black-owned business is particularly meaningful, as it wasn't so long ago that African Americans faced significant barriers to open their own business. I am proud Tenet Healthcare is highlighting black-owned businesses in celebration of Black History Month this year.
I strongly believe we will be better off as a society if we embrace the power of learning our history. With that, comes understanding and appreciation of different cultures so we can begin to break down barriers that prevent us from growing into a more diverse and inclusive world.