Meet Ken Sparkman, Tenet's new Senior Director of Sustainability and Energy Management
Ken Sparkman recently joined Tenet from Microsoft, IBM, Apple and many other large companies across technology, oil and gas and aerospace and defense. Read more about his passion for protecting the environment, his views on healthcare as 'beacons of hope' and what he believes are the most important qualities in a leader.
Tell us about your career background.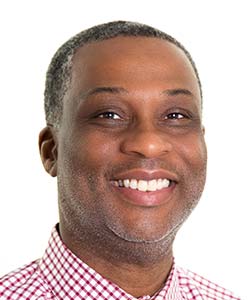 When I received my Masters in Hazardous Materials Management, I began my career as a Hazardous Waste Specialist for the Mississippi Military Department, managing 90-day hazardous waste satellite storage areas. It was entry level and laid the foundation of what was to come. Over the next 20 plus years, as my passion and hunger to be the best at all I endeavor continued to grow, those foundational environmental management skills would expand, enabling me to work across several business sectors, including local government (the city and county of San Francisco), aerospace and defense (BAE System and Honeywell), oil and gas (Chevron) and technology (Apple, IBM Cloud, and most recently, Microsoft). Working for the world's largest and most impactful companies, has afforded me many life enriching experiences and has facilitated the opportunity for me to make an impact on the environment on a global scale. I have also conducted environmental business in more than 55 countries.
What drew you to pursue sustainability as a career? What are you most passionate about as it relates to protecting the environment?
I had plans on pursuing a career in medicine and decided not to during my senior year of undergraduate studies. As I searched for a different course to chart, I stumbled upon an elective course, Natural Resource Conservation and Ecology, which changed my life. We met outside in the university greenhouse and collected and analyzed water and soil samples to determine local flora and fauna. I was sold on understanding the ecosystem as a means of protecting it. I also understood that this was important work that would need to be done to protect the planet. With that newly discovered passion and attachment to the mission, I knew what I wanted to do and immediately enrolled in a graduate program that focused on environmental management.
When it comes to protecting the environment, I am most passionate about the nobility of the mission and how it serves the greater good.
What's something that would surprise people to know about you?
I think it would surprise people to know that I do not watch television. I prefer to ingest information via reading it, which gives me the opportunity to manage how I feel about the information.
What do you think are the most important qualities in a leader?
In my experience, the most important qualities a good leader exhibits is the ability to inspire, exhibiting fair and objective judgement, empowerment of their people and lastly, but certainly not least, inclusivity.
Why healthcare?
My mom worked in a non-profit community health center for her entire career, so I have seen firsthand the important role that these facilities play in the cohesion of the communities where they are located. Healthcare facilities are usually viewed as safe havens and beacons of hope in each community, and I believe this is an excellent opportunity to expand that sentiment by increasing the sustainability and resilience of those facilities and the communities they serve.